REO IS PLEASED TO INTRODUCE YOU TO OUR COMPANIES...

The REO companies were founded in 1972 with the launch of REO Hydro-Pierce and REO Hydraulics. We design, manufacture and build specialized tools and components.
To find out more information about either of the Companies, please click on the picture.




REO HYDRO-PIERCE

REO Hydro-Pierce started with the development and patenting of the Hydro-Pierce tool. This tool, incorporating a highly unique "Ram active/Rod stationary" hydraulic (or air) operated cylinder has brought a greater versatility and efficiency as well as space and cost savings to plants. REO units are designed for such applications as automotive body panels, engine cradles, hydro-form tubes and commercial components. Inherent in the design are features such as highly precise and permanent alignment between punches and dies. The REO ram features bearing areas that permit a unique capability of offset loads and multiple "hits" per stroke.

REO HYDRAULICS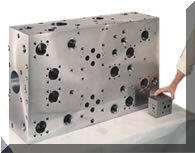 REO Hydraulics began with our line of standard and custom sub-plates, manifolds and valve packages. Our capabilities have expanded to include integrated hydraulic circuitry (cartridge valve) packages and custom built manifolds of virtually any size! REO will build special hydraulic manifolds from your schematic and specifications or from your print.

MACON MFG.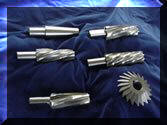 MACON MFG. Was established in 1937 and acquired by the REO group in 1982. Macon supplies the automobile, aircraft, aerospace and agriculture industries with a wide variety of precision cutting tools. Macon can design, alter, build or repair special tools to meet customer requirements.


To request a brochure call or email David Obrecht
Phone (313)891-2244 Fax (313) 891-2324
18475 Sherwood - Detroit, MI 48234
©REOGROUP.COM
2001-2009